Conference Hotel & Venue: Hyatt Regency Osaka Hotel
Address:
DIP Dry Ice Production CO., LTD. NO. 3 Factory Office BLD.
The 4th floor, Room No. 1-10.
43 Torch Road, Qi Xian Ling,
Dalian Hi-tech Industrial Zone,
LN 116025, P.R.China
Tel: +81 6 6612 1234

http://osaka.regency.hyatt.com/en/hotel/home.html

Located on Osaka Bay, Hyatt Regency Osaka is in close proximity to popular attractions such as the 'Kaiyukan' aquarium and Universal Studios Japan®. For the business traveller, Intex Osaka exhibition hall, Asia Pacific Trade Center and the Osaka Prefecture Government building are adjacent to the hotel.
With 480 guest rooms available for reservation, fitness center and spa, and complimentary Wi-Fi connectivity throughout the hotel, Hyatt Regency Osaka offers the best comfortable accommodations with the hospitality for which Japan is renowned. A range of restaurants and bars offer exceptional cuisine in a variety of sophisticated and comfortable settings.
The hotel's extensive meeting and events facilities provide the perfect setting for a successful and memorable occasion. Hyatt Regency Osaka is renowned as the premier event hotel in Osaka for all of your business conferences and banquet requirements, whether large or intimate in scale, classical or contemporary in style.
Arrival & Departure Policy
Check In Time: 2:00 PM; Check Out Time: 12:00 PM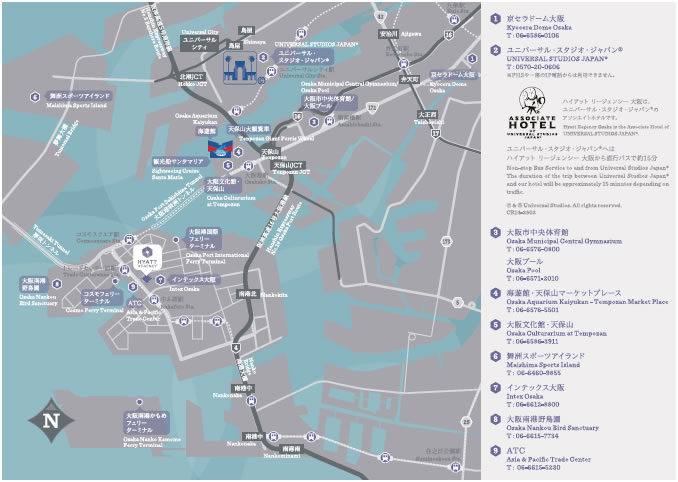 Hyatt Regency Osaka is 45 minutes by car or bus from Kansai International Airport. There are several convenient transport options available from the hotel to access the many popular areas of Osaka.
Map & Directions
From Kansai International Airport to the Hotel
Located at Izumisano city, Kansai International Airport is conveniently accessible via limousine airport bus, taxi, Hotel limousine car and train.
Limousine Airport Bus
The limousine airport bus departs from Bus stop 3 on the arrivals floor of the airport. Take the bus bound for Osaka Nanko for JPY1,550 per person. No bus from 09:10pm to 09:10am. Travel time is approximately 50 minutes.
Check Airport Bus Timetable at: http://www.kate.co.jp/en/timetable/detail/NU
Taxi
A direct taxi ride from the airport to the Hotel would cost approximately JPY14,000 per car (4 persons maximum). The travel time is approximately 45 minutes depending on traffic. Note: this is the most convenient way to reach the Hotel outside the operating hours of the limousine bus service.
Hotel limousine car
Hotel limousine takes approximately 45 minutes depending on traffic and costs JPY16,000 per car per trip. Advance reservation is necessary via our Concierge department via email at concierge.osaka@hyatt.com.
Train
Go to the Nankai line and catch the train to Namba. This part of the journey takes approximately 50 minutes. We recommend to take a taxi from Namba station. Approximate cost of the taxi is JPY5,000 per car (4 persons maximum) and travel time is approximately 30 minutes.
*First train departs at 05:45am and the last train departs at 11:59pm.
Distances to the hotel
l Nakafuto Newtram Station 3 minutes' walk
l Cosmosquare Subway Station 10 minutes' walk
l Umeda/JR Osaka 25 minutes by car
l Namba/Shinsaibashi 30 minutes by car
l Shin Osaka (Shinkansen Station) 40 minutes by car
l Kansai International Airport (KIX) 40 minutes by car
l Osaka Domestic Airport (ITM) 50 minutes by car
l Universal Studios Japan® 15 minutes by car
l Kyoto 90 minutes by car
l Kobe 30 minutes by car
l Nara 60 minutes by car